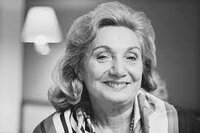 Freddie Ross Hancock
Freddie Ross Hancock, the British marketing consultant and publicist who represented Sophia Loren, Julie Andrews, Benny Hill, Theodore Bikel and Jim Dale and helped bring the British Academy of Film and Television Arts to New York, has died. She was 92.
In the 1990s and 2000s she also worked as Senior Vice-President of Acquisitions for the movie distributor American Video Films, where she was a beloved presence at the Cannes Film Festival. Besides founding BAFTA, she was also Vice-Chairman of the US wing of the Royal Television Society.
Freddie really had a brilliant mind. Even into her 80s she never stopped screening films for BAFTA, giving shrewd advice about how to market them.