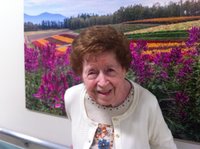 Stephanie Lewis
Stephanie Lewis (Reynolds) of New York, NY died peacefully in her sleep on May 24, 2018, at the age of 98. She was born on September 23, 1919 to Stephanie Roberts and Robert Reynolds.
Stephanie was a loving and devoted mother to son Bill Lewis (Kathy), and her daughters Barbara Delaney (Rob) and Stephanie Ambrose (Patrick); an adored grandmother to her grandchildren Eron Lewis (Rachel), Shawn Ambrose (Christine), Al Delaney (Bernadette), Michan Delaney (Kim), James Ambrose (Erin), and Katherine Ambrose (Jared); and a proud great grandmother to EJ, Grady, Conor, Eloise, and Cate. She is preceded in death by her husband Ed, her sisters Helen and Margaret, and her son James.
A viewing of the body will take place at Gannon Funeral Home (152 East 28th Street in Manhattan) on Tuesday, May 29, 2018 from 3:00-5:00pm and 7:00-9:00pm. The funeral mass will take place on Wednesday, May 30, 2018 at the Epiphany Church at 11am.