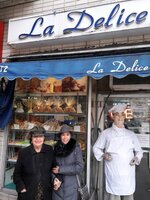 Mary Georgiade
Mary Georgiade born December 26, 1929 passed away on January 28, 2023. Born in NYC she spent most her entire life in her beloved Manhattan neighborhood. She was the daughter of the late Michael and Bertha Georgiade.
Mary was a graduate of Washington Irving High School.
Predeceased by her son, Michael P. De Felix, Mary will be missed by those who survive her, daughter, Linda M. De Felix-Spear (Greg).
Mary was a devoted mother, a proud New Yorker, and a kind and lovely soul who welcomed anyone she met as a potential friend. She lived, worked, built her life, and raised her children. She was an independent woman in the day when it was far more than today. If, as they say, you can judge a person by what that person loves, consider this list.
Mary loved her son and daughter. She loved cats and tended to people's pets as if they were her own. She loved keeping watch over the city's birds and squirrels. If you were lucky enough to get to know her, she loved surprising you with homemade egg salad and her own special pilaf. She loved telling tales of the old New York and her experiences and contributed photographs of historic value to the book: Madison Square Memoir by Irving Harris. She loved chatting with her neighbors, collecting beautiful clocks, and singing Greek folk songs. She loved to dance and passed that passion of dance along to her daughter. As it happens, she adored Telly Savalas, Alex Trebek, chocolate and ice cream. Mary lived a long and amazing life and took it all in with good humor, resilience, and unshakeable loyalty to those close to her.
She will be remembered for her kindness and generosity.