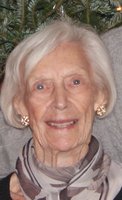 Anne Cecelia Shinnick
Anne Cecilia Shinnick, young at heart and sharp of mind until the end, passed to eternal life on January 31st, two days after her 104th birthday.
A native New Yorker, Anne was born and raised in Chelsea. She lived for many years in the Inwood section of Manhattann and spent the last 45 years as a resident of Stuyvesant Town.
Most of the fifty years of her working life were in publishing, the last twenty years at the New York Times.
Anne lived every day in gratitude to 'the good Lord' for her health' family (8 siblings, 20 nieces and nephews and many grand nieces and nephews) and friends. Anne was admired by all who knew her and marveled at her sociable and conversant nature as a centenarian. Her passing is certainly the end of an era.
A Memorial Mass will be celebrated in the springtime to honor Anne's long and faith-fllied life.