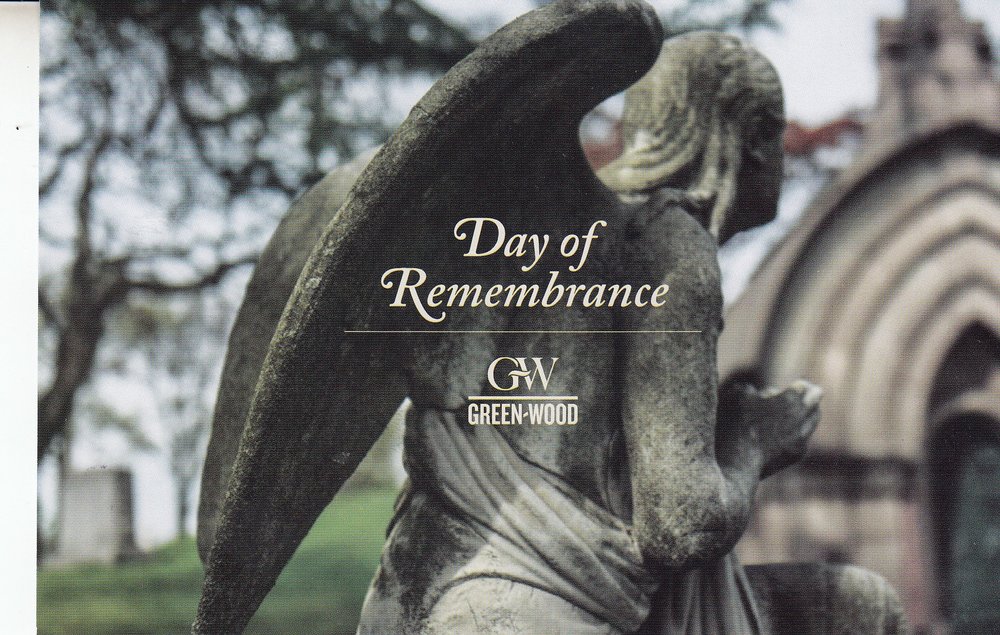 Latest News & Events
You Are Most Cordially And Warmly Invited to a
"DAY OF REMEMBRANCE"
Saturday, October 27, 2017
Time: 5:00 p.m. - 6:30 p.m.
"When someone you love becomes a memory, the memory becomes a treasure."
-Anonymous
A day created to embrace both the sadness and wisdom that stems from loss.
Through carefully selected poetry and music, we will share a beautiful series
of rituals designed to heal and restore.
The evening will conclude with the lighting of memorial lanterns at sunset and
launching them onto a tranquil pond.
Remembrance is a unifying force when separation is validated and shared.
Family members can attend this event together, but anyone will find companionship with
others in attendance.
All are welcome, regardless of where loved ones are interred or memorialized. This event is free, but please register online so that we can gauge response at: www. green-wood.com/calendar/dayofremembrance
2013-12-06 - Effective January 1, 2013: Medicaid Resource Levels (per household): 1-Person 2-Person 3-Person 4-Person $14,400 $21,150 $24,323 $27,495 SSI Resources Levels: Individual 2-Person $2,000 $3,000 *Per Office of Medicaid Management.
2013-12-06 - JUST THE FACTS . . . There are 988,217 veterans; . 724,592 served during wartime . 263,625 served during non-wartime . 1I7,934 served during World War II 120,809 served in during the Korean War 303,002 served during the Vietnam War 163,797 are Gulf War veterans' 65,111 are women 70% are 55 years or older Source: NYS Division of Veterans Affairs, 08/2010
2013-12-06 - We are proud to announce that we now provide green burial services. For more information please call Steven M. Baxter. MBIE @(212) 532-6579 to discuss your Green Burial options
New York's Public
Health Law § 4201
Effective August 2nd, 2006 (subsequently revised 08/02/2007), pursuant to Public Health Law §4201in New York State, individuals will be able to include in their estate planning, an assignment of agent in the disposition of remains. While this may seem unnecessary to the majority of individuals, with the increase of multiple marriages, same-sex relationships, and individuals who are choosing co-habitation over legal marriage, the disposition of a loved one's remains is increasingly being litigated. And even though burial or cremation instructions can be included in an individual's Last Will & Testament, an individual is usually buried or cremated long before a Will is probated or even looked at.
The Appointment of Agent to Control Disposition of Remains, similar to a Health Care Proxy or a Living Will, designates the agent whom the client wishes to carry out these matters. In addition, the statute provides that an individual may give special directions such that s/he be cremated, that their body be buried in a particular grave at a specified cemetery, or that a particular funeral home handle the arrangements.
Significantly, an individual will be able to revoke prior appointments and advise the designated agent of his/her appointment. This is particularly beneficial in divorces or second marriages. The designated agent is then required to sign a document both accepting and assuming the responsibilities of agent for this individual. Original Appointment of Agent to Control Disposition of Remains documents may be kept with the client, the designated agent, a law firm, and a named funeral home.
Upon the client's death, the designated agent will be able to present this legally-recognized document and ensure that the client's remains are disposed of according to his or her special directions.
Who Can Authorize a
Cremation/Burial in New York?
In the event that the decedent did not name an agent, Public Health Law §4201 also designates in descending priority those individuals which shall have the right to control the disposition of the decedent's remains:
Person designated in written instrument;
Surviving spouse;
Domestic partner
Any of the decedent's surviving children over the age of 18
Either of the decedent's parents
Any of the decedent's surviving siblings (brothers or sisters) over the age of 18
A guardian appointed pursuant to Article 17 or Article 17-a of the Surrogate's Court Procedure Act (SCPA) or Article 81 of the Mental Hygiene Law
Person 18 years or older now eligible to receive an estate distribution, in the following order:
Grandchildren
Great-grandchildren
Nieces and nephews
Grand-nieces and grand-nephews
Grandparents
Aunts and uncles
First cousins
Great-grandchildren of Grandparents
Second cousins
The duly appointed fiduciary of the decedent's estate
Close friend or other relative who is reasonably familiar with the decedent's wishes, including his or her religious or moral beliefs, when no one higher on the list is available, willing, or competent to act; (Note: This person must complete an "At-Need Written Statement of Person Having the Right to Control Disposition" form)
Public Administrator (or the same official in a county not having a public administrator); or, anyone willing to act on behalf of the decedent who completes the "At-Need Written Statement" form.
To print a copy of this form, CLICK HERE

Our Location
Owned by William P. Gannon
152 E. 28th Street
New York, NY 10016
​
Phone: 212-532-6579
Fax: 646-349-3019