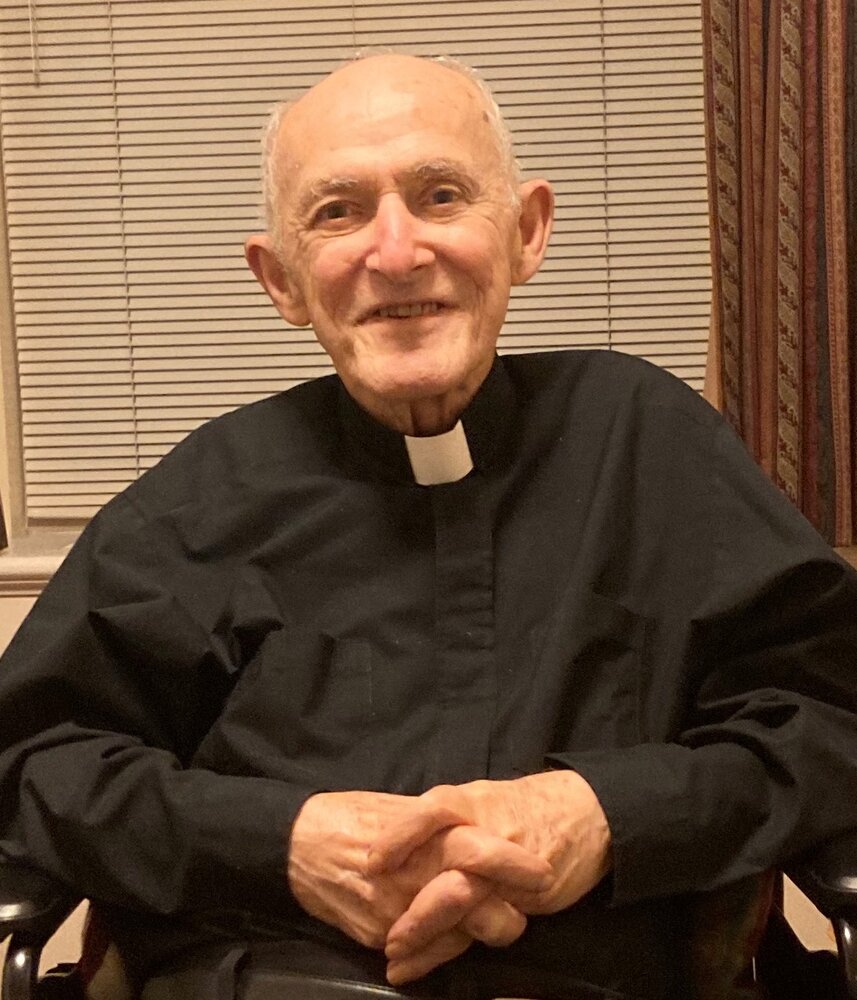 Obituary of Rev. James W. Albrecht
On September 2, 2021, Fr. James W. Albrecht died at home in New York City after a short illness.
Fr. Jim, as he was always known, was born in Detroit on July 29, 1932, one of four children. He grew up in Detroit and attended Holy Redeemer High School, graduating in 1950. He attended the University of Detroit where he received a Master's degree in physics in 1954. In that year he started a doctoral program in physics at the University of Chicago with a National Science Foundation Fellowship. While studying there, he lived at the Woodlawn student residence and met Fr. Joseph Múzquiz, who had come from Spain to start Opus Dei's activities in the U.S. After a few months at the residence he joined Opus Dei.
In 1955 he moved to Rome where he did studies in philosophy and theology, eventually obtaining a Ph.D. in philosophy at the Lateran University. While in Rome he lived with St. Josemaría Escrivá, the founder of Opus Dei. After his studies in Rome he moved to Spain and was ordained to the priesthood in Madrid on August 10, 1958.
He returned to the U.S. in 1959 and lived in Chicago, where he was the Counselor (head) of Opus Dei in the Midwest region. In 1963 he and three other Americans went to Australia to start Opus Dei's work in that country. Fr. Jim was the first Counselor of Australia. While he was there he oversaw the building of Warrane College, a Catholic student residence for 200 men at the University of New South Wales, which continues to function to this day.
In 1970 he returned to the United States and lived for a number of years in New York, carrying out pastoral work for Opus Dei. From 1988 to 1994 he lived in Washington, DC and carried out pastoral work there. While in Washington, he served as an adjunct professor in the Department of Computer Science at the School of Engineering of The Catholic University of America. He also carried out various research projects in the area of computing for the U.S. Navy. Over the years, Fr. Jim mastered a number of computer programming languages, including PASCAL, Assembly, C, Visual Basic, SQL, and PHP, all of which were self-taught.
In 1994 Fr. Jim returned to New York where he remained for the rest of his life. Until a few months before his death, he carried out abundant pastoral work including preaching three-day retreats and teaching philosophy classes every summer.
Throughout his life, Fr. Jim was known as a professor of philosophy and theology with a specialty in the metaphysics of St. Thomas Aquinas. Despite his obvious intellectual gifts, he was quiet, patient, always kind to those he dealt with, and widely appreciated as a gentle and understanding confessor.
A wake will be held on Tuesday, September 7, from 5:00 - 9:00 PM at Murray Hill Place (139 East 34th St., New York, NY).
A funeral Mass will be celebrated at St. Agnes Church (143 East 43rd St., New York, NY) on Wednesday, September 8 at 10:00 AM. The body will be waked at the church from 9:00 AM.
The burial will take place at 1:00 PM at Gate of Heaven Cemetery (10 West Stevens Ave, Hawthorne, NY 10532).
Memorial donations may be made to Woodlawn Foundation at 56 Harrison St., Suite 401, New Rochelle, NY 10801.
Share Your Memory of
Rev. James

Our Location
Owned by William P. Gannon
152 E. 28th Street
New York, NY 10016
​
Phone: 212-532-6579
Fax: 646-349-3019