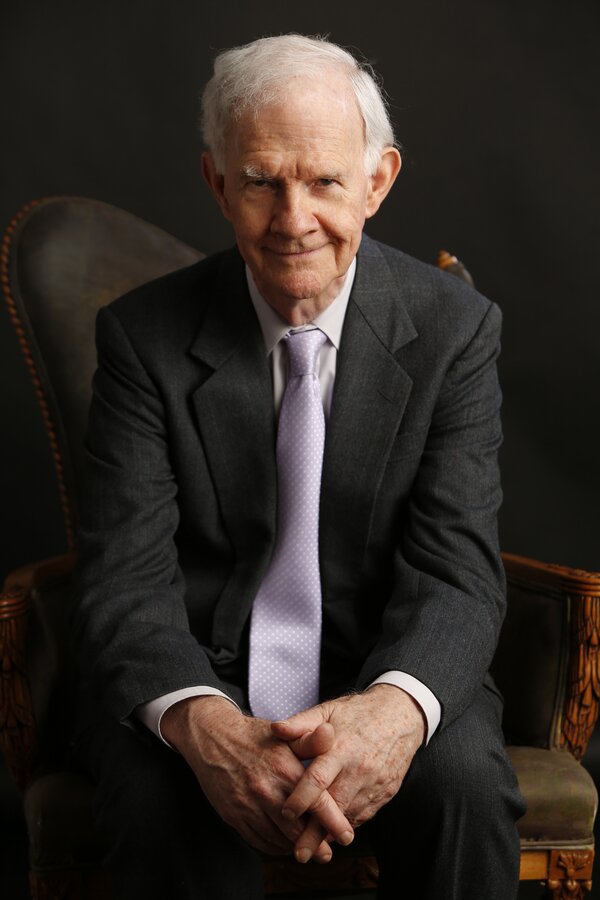 Obituary of Gabriel Richard Moran
Please share a memory of Gabriel to include in a keepsake book for family and friends.
Dr. Gabriel Moran, AFSC, an internationally recognized scholar and much-admired teacher, died October 15, 2021 in New York City. His research and writings made significant contributions to Roman Catholic theology and ecumenical religious education. Moran was Professor Emeritus of Educational Philosophy at New York University, where he had taught for 29 years. Moran was predeceased by his beloved wife, Maria Harris, his sisters Louise Lyons and Dorothy Perkins, his brother John and his parents, Mary Murphy and John Moran. He is survived by his sister, Madonna (Mary) Moran, RSM, his nieces and nephews, and many friends. Born Richard Moran on August 11, 1935, in Manchester, New Hampshire, he entered the De La Salle Christian Brothers in 1954, accepting the name Gabriel. He received his doctorate from the Catholic University of America in Washington, DC. Moran became director of Manhattan College's Graduate Program of Theology and Religious Education in 1965. His extensive knowledge of Roman Catholic tradition and ancient and modern philosophy, and his clarity of expression, attracted students from across the United States and abroad. In 1970, he was elected Provincial Superior of the Long Island and New England District of the Christian Brothers. In 1978, Moran joined New York University's Department of Humanities and Social Sciences where he taught religion, philosophy, and the history of education. In 1985, Moran withdrew from the Christian Brothers and wed his colleague, Maria Harris. They remained married until her death in 2005. He was welcomed back into the Christian Brothers with the honor of Affiliated Member in 2020. His tenure as Chair of NYU's Department of Religious Studies furthered Moran's ecumenical standing and attracted students of many religious traditions, drawn by his vast knowledge, critical thinking, and generosity of spirit as an encouraging mentor. Moran published The Alternative (Religious Education) newsletter for 45 years and was an early participant in the International Seminars on Religious Education and Value (ISREV). His international presence flourished with lectures in Europe, Asia, Africa and Australia. Moran and his colleague and wife Maria Harris received the William Rainey Harper Award at the Centennial Celebration of the Religious Education Association. Fordham University's Graduate School of Religion and Religious Education awarded Moran and Harris the distinction, Sapentia et Doctrina (Wisdom and Learning), noting that they had changed the field of Religious Education, both Catholic and ecumenical, around the world. In 2004, Moran was the recipient of the National Conference for Catechetical Leadership Award. Through over 400 essays and 31 books, Moran created a distinguished, far-reaching body of work. His most recent book, What Happened to the Roman Catholic Church? What Now? An Institutional and Personal Memoir, offers hopeful directions for the Catholic Church's response to such key issues as sexual diversity, non-violent force, racial equality, priesthood, and women's rights. Its theme echoes Moran's lifelong thesis that Catholic revelation is present both in the teachings of Christian mystics and in community participation of women and men in Catholic liturgies today. A full listing of Moran's published works and a more complete biography appear on the website, www.gabrielmoran.net Visitation will be held at Gannon Funeral Home, 152 East 28 Street, New York City, Wednesday, October 20, 2-4pm, and 7-9pm followed by visitation on Thursday and Friday, October 21 and 22 at The Christian Brothers' Center in Narragansett, Rhode Island. A liturgy of Christian Burial will be celebrated at the Center at 10am, October 23 with interment at the Brothers' Cemetery. Donations in Dr. Moran's memory may be sent to the Christian Brothers, 850 Newman Springs Road, Lincroft, New Jersey 07738.
Share Your Memory of
Gabriel

Our Location
Owned by William P. Gannon
152 E. 28th Street
New York, NY 10016
​
Phone: 212-532-6579
Fax: 646-349-3019